Designing for Gesture Control in Automotive HMI¶
In Ultraleap's Experience Design and Research team, we study human behaviour and use evidence-led design practice to determine the gestures, interactions, and haptic sensations that work best. We work with customers integrating our technology into a wide range of products, using what we've learned to help them design intuitive, touchless experiences.
Gesture and interactions aren't the same in every case. Our gesture choices will be affected by the context and job the user is doing, as well as whether they're using a 2D screen or a form of virtual or augmented reality.
Are they a driver operating an infotainment system without taking their eyes off the road, or a vehicle designer reviewing a 3D model in VR? For each case, we start with the person and find the interactions that best fit their needs.
Recently, Groupe PSA's new luxury concept car the DS Aero Sport Lounge featured Ultraleap's hand tracking and mid-air haptic technology built into the futuristic car's central armrest.
Powered by Ultraleap, the driver (or passengers) can control a range of systems with natural hand gestures – from entertainment to navigation.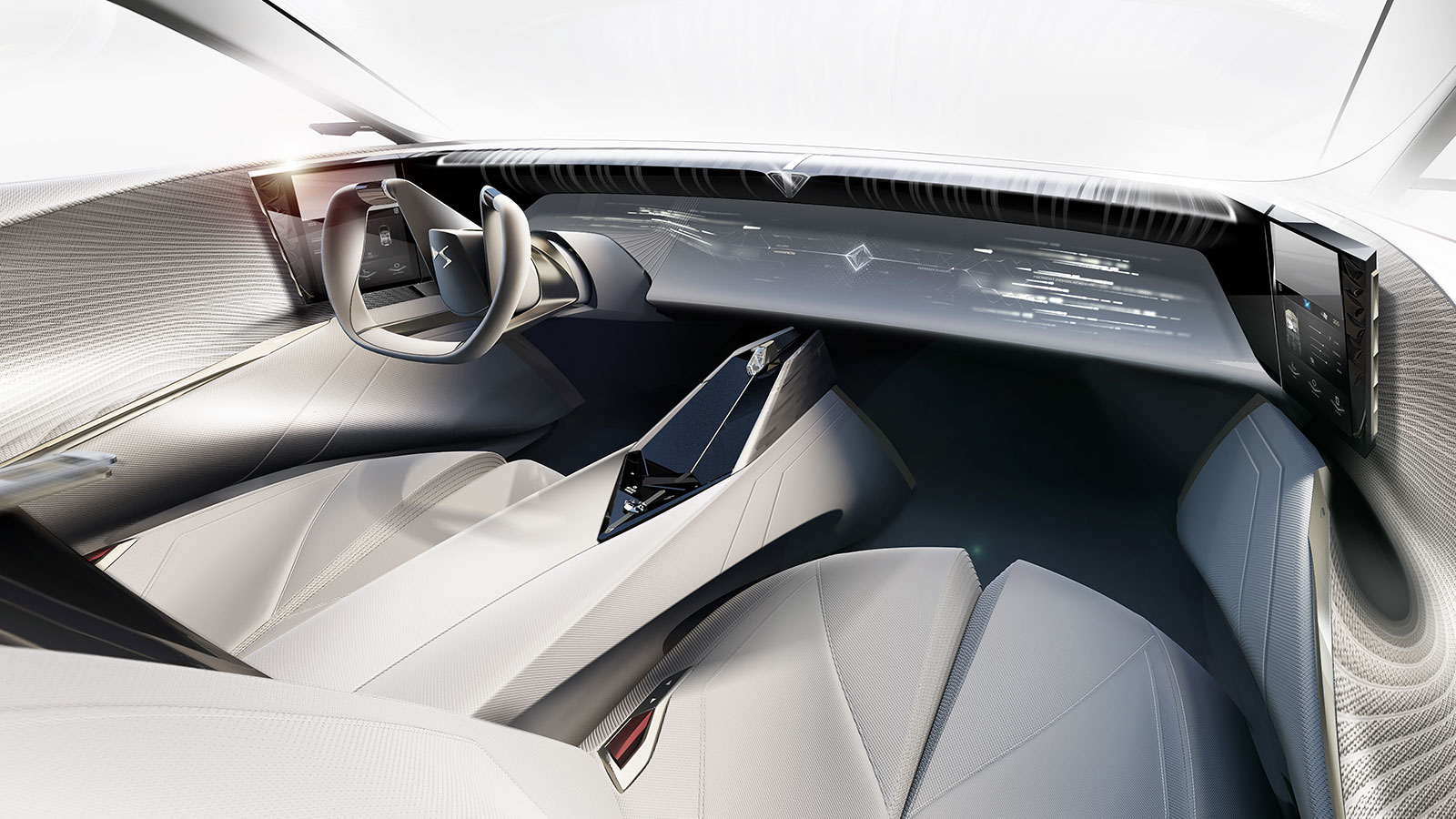 Groupe PSA's new luxury concept car the DS Aero Sport Lounge features Ultraleap's hand tracking and mid-air haptic technology built into the futuristic car's central armrest.
Designing infotainment with gesture control and mid-air haptics¶
The gesture interactions in the DS Aero Sport Lounge concept car were based on insights from a previous Ultraleap infotainment system design project. These were investigated by designers in our Experience Design and Research team through iterative design, under representative workload conditions in a driving simulator.
The scope of the design project was determined by the study of market-leading infotainment systems and qualitative user research with drivers from a wide range of backgrounds. This gave us a sense of how automotive HMI is commonly used and let us determine the most important functions. B ased on this, we designed a prototype gesture control infotainment system that allowed users to:
Control climate through temperature and fan speed

Control music through track selection and volume

Handle navigation /maps, including setting a new route

Answer/decline phone calls

Switch between functions with a menu system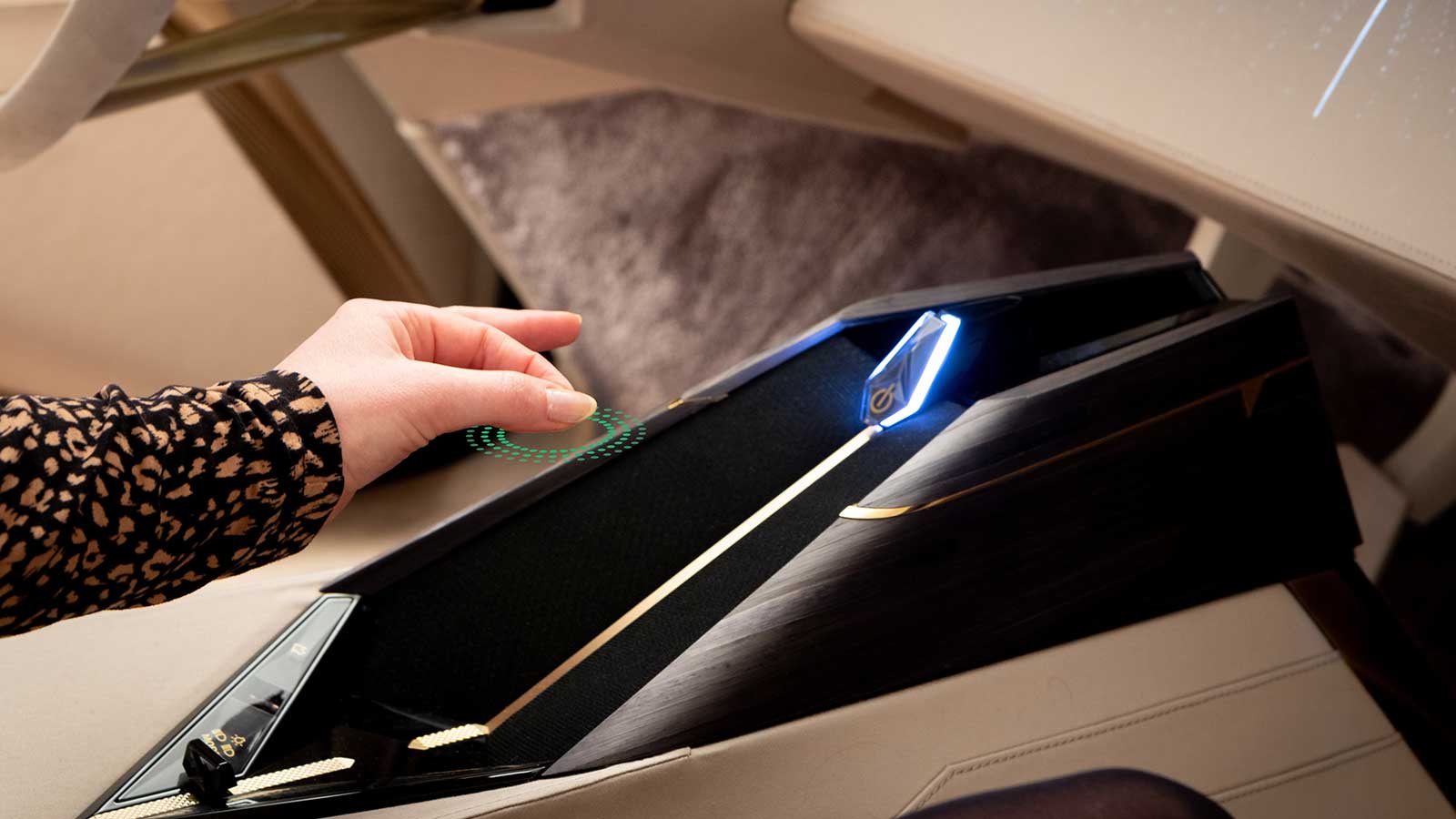 Our team designed and built a working prototype of the automotive HMI, conducting tests with 42 different users using a purpose-built driving simulator very similar to those used in the automotive industry. We then iterated upon the design and repeated our tests, learning which combination of hand gestures, haptic sensations, and on-screen UI components worked best together.
Designing for reliability¶
With gesture control, we need to consider the reliability with which the technology can recognise a gesture and interpret the user's intention. Unlike pressing buttons on a touchscreen, hand gestures are analogue – the hand goes through a range of motions and postures as it forms a gesture and then releases it.
Hand shapes and sizes, the way people gesture and even ambient light will vary hugely, making it a technical challenge to get it right every time.
The hand tracking camera must also be mounted where it can get a good view of the user's hands in the intended interaction area. This avoids occlusion (i.e. when it's not clear what gesture you are making because part or all of your hand is blocked from the camera's view).
During user testing, our team assesses hand gestures and associated haptics and UI elements in terms of their usability, their comfort, and their reliability.
The following are our current recommendations for using hand gestures in automotive HMI, each with suggested functions, pros and cons.
Picking the right gestures depends on many factors and must be considered as part of a wider design system that includes haptics, UI components, audio feedback, and vehicle architecture. Ultraleap are currently undergoing automotive grade validation of these elements. For now our guidelines are the best place to start.
---