Call To Interact¶
Ultraleap have carried out real-world research to find the most effective way to onboard first-time users of touchless interfaces. The instructional elements we recommend attract user attention, bring users into position, and teach them how to interact.
We call these elements the "Call to Interact". Our evidence-based design recommendations for your Call to Interact make for a quick and smooth user onboarding experience. When these recommendations are followed, our usability studies indicate that the onboarding process for a first-time user typically takes a matter of seconds.
When first using a touchless interactive kiosk there can be a lot to learn in a very short space of time. Instructional information should convey that the screen can be interacted with, and how.
Call to Interact should indicate to customers:¶
The interactive kiosk or display is touchless.

You use it by moving your hands in the air.

Where to stand to use it.

Where to position hands.

How to use hands to interact (for example, pushing buttons).
---
Ultraleap Recommend Four Elements That Serve as The Call to Interact¶
Looping, on-screen instructional animation or video (required).

Footprint graphic (stickers or mat on the floor).

Nearby environmental signage.

Printed instructional panel.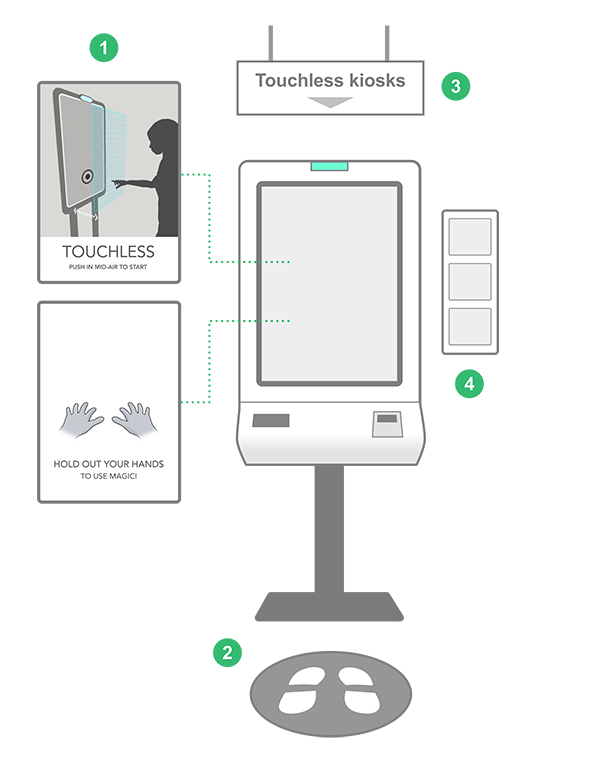 ---
Why is an Instructional Video or Animation Important?¶
New users learn quickly by watching and mimicking what they see. Our researchers have found that a short, instructional animation (5-8 seconds long), played in a loop on-screen when the kiosk is not in use draws attention. Users copy the animated movements, which teaches them how to use the machine.
This animation or video is critical for successful adoption with new users. The format required will differ slightly between touchless kiosks and digital signage. For example, an interactive movie poster will have different requirements to a self-service kiosk. See our Call to Interact study for more information.
Animation for Kiosks¶
A large "Touchless" title, and an animation showing someone using the kiosk at a distance, should be visible as customers approach. This makes sure people recognise the machine can be used touchlessly. Combined with footprint graphics, the animation indicates where to stand, and guides customer hand position. Hands need to be positioned inside the interaction zone.
How it Works¶
The animation and some short instructional copy (for example, "push in mid-air to start") show customers how to begin interacting. In Ultraleap studies, we found that most people mimic the animation on screen, copying both the speed and position. The animation should play until the user performs the correct interaction type for the kiosk. This builds in practise before the kiosk experience begins.
Content Details¶
The instructional video could be a live-action film of a person, or an animated model interacting with the kiosk. The visual style can be adapted to fit your brand. Ultraleap recommend including the following key features in any design:
Include the word "Touchless." This could be as a large title or as a short phrase such as "This is a Touchless Kiosk."

Clearly represent the hand pose and motion for the kiosk's interaction type.

Show the on-screen cursor synced with the hand motion. Use the correct cursor for the interaction type.

Include a short text instruction for the interaction type in a smaller font, such as "push in mid-air to start."

Play the video on a loop when the kiosk is not in use.
The instructional animations for the different interaction types below can be adapted for your own purposes and are included with TouchFree.
---
Why Are The Footprints Important?¶
Our research has shown that footprint graphics are a key driver in customers choosing to interact.
First-time users need to know how far away to stand to operate the kiosk. Ultraleap recommend a clear indicator on the floor of where users should stand, wherever feasible. Standing too close or too far back from the interaction zone can lead to tracking issues or an uncomfortable experience.
Our user testing indicates that simple footprints – either on a mat or vinyl sticker – are effective for the following reasons:
They draw users to the kiosk because they can be noticed from a distance.

They indicate that the kiosk offers touchless interaction through the suggested standing position.

They guide the user into a comfortable position within the interaction zone.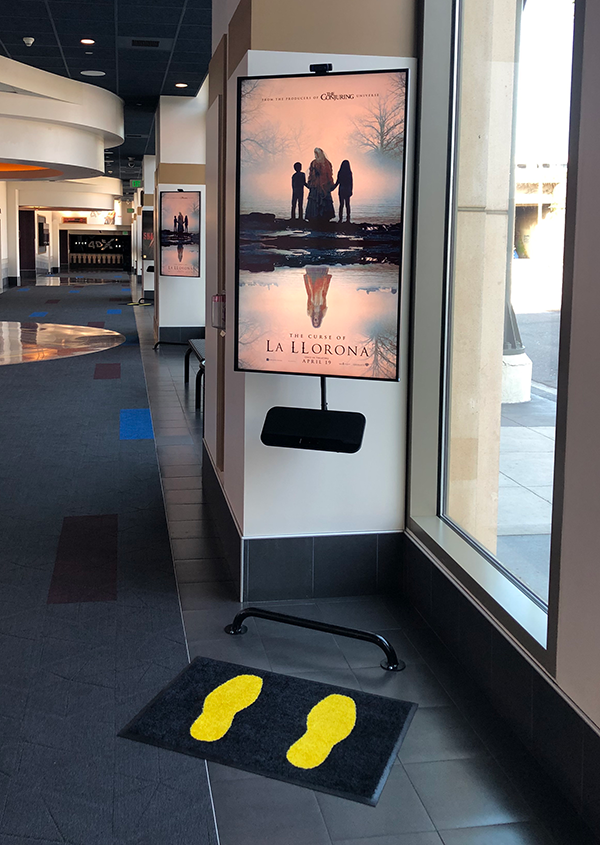 ---
Nearby Environmental Signage¶
Why is Signage Important?¶
It is important to consider what signage you are able to install in the environment.
For self-service kiosks, nearby signage helps set customer expectations before they reach the machine. Signage can let customers know that touchless kiosks are available when they enter the store, or wait in a queue.
It is also important to identify any extra support you may be able to offer users when TouchFree is first introduced. Extra support can increase customer confidence and might include:
Extra instructional panels displayed where customers are in the queue.

A "test" kiosk where customers can practise.

An employee on standby who can assist customers.
---
Printed Instructional Panel¶
Ultraleap user studies show many customers will be drawn to the screen and start using the kiosk quickly. However, some may prefer to take their time and are happy to read instructions before beginning.
A printed instructional panel can complement the on-screen animation by providing similar information in an different format.
In instances where customers may become unsure or stuck mid-way through the experience, a printed panel within their field of view can act as an aid.
The information on the instructional panel should be clear and concise, showing:
Where users should stand in relation to the kiosk.

How far away from the kiosk user's hands should be.

The hand pose and hand motion required to interact with the kiosk.
Ultraleap has the following recommendations:
The panel should be mounted at eye height. Typically 1.35m–1.8m (4.5ft–6ft) and 1.15m (3.8ft) for adult wheelchair users.

The panel should include short text instructions and visual diagrams of users interacting with the touchless kiosk.

Text should be large enough to read from around 1 metre away. We recommend a minimum 14–point size font for the detailed text instructions and 36–point font for titles.

If footprints on the floor are installed, then these should be shown in the images on the panel.

The panel should demonstrate the interaction users need to perform to make a selection.

Information presented should be consistent with what it is shown in the instructional video or animation. Ensure that the cursor, hand pose, and motion match the instructional video or animation.
The sample panel artworks below are free to download and can be adapted for your own purposes.
| | |
| --- | --- |
| | |
| Sample instructional panel for Air Push (recommended) | Sample instructional panel for Hover & Hold |